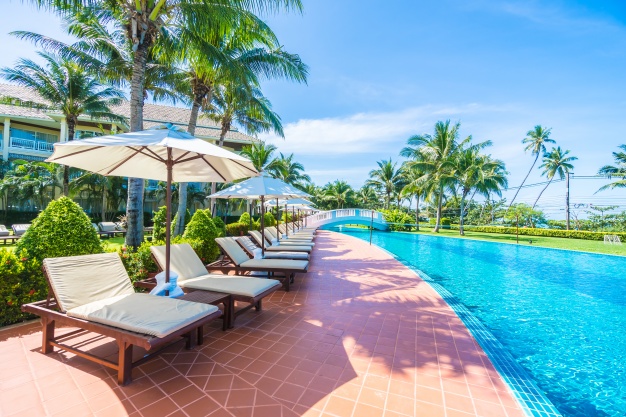 Hotel owners face unique risks, so a well-crafted approach to commercial property and liability hotel insurance is critical to managing hotel hazards. Whether you own a small property tucked away on the coast or a metropolitan complex, the need for a tailored insurance package is an important part of mitigating your risk. With the economy in high gear, more Americans are vacationing, and business travel is up. A strong commercial insurance program helps you manage the threats to your hotel's reputation and protect your assets.
Here are a few of the coverages hotels managers should consider. While most are "must haves," we'll also review a few emerging risks that you should consider depending on your location.
Commercial General Liability Coverage
Even in a hotel with limited amenities like pools, hot tubs, or offsite excursions, the possibility of injury or property damage is pervasive. Commercial general liability coverage protects you against many of the following situations.
Bodily injury allegations
Property damage events
Product liability allegations
Advertising and tenancy-occupancy errors
For smaller venues, a business owners policy may provide enough coverage. However, the more comprehensive commercial liability policy form may be the best option as your hotel grows.
Commercial Building and Personal Property Coverage, Including Crime Coverage
Commercial property insurance provides hotel insurance for your building and your business contents. When it comes to buying property coverage, a one-size-fits all approach can be a recipe for disaster. Coverage gaps abound in property insurance, detailed in one of our previous blogs, covers some of these problems in depth. Crime coverage is a necessity, including protection against internal fraud. A commercial property package tailored to your unique exposures can help you avoid longer than necessary income reductions after a loss.
Business Income and Extra Expenses Coverage
Business income coverage with extra expenses is another important coverage. Consider the Hotel Coronado on Coronado Island in California. While this is a highly protected risk, meaning the insurance industry considers it to contain special fire protection apparatus, a small kitchen fire caused over $450,000 in damage and reduced occupancy after the fire. Business income insurance can help smooth these income losses. Extra expense insurance pays the costs to expedite a return to normal business, including the costs associated with expediting materials to the site to get you back to business as usual. Today's property losses can take a long while to repair, especially after a disaster. You'll want to be sure you buy adequate limits of business income and extra expense coverage.
Workers' Compensation Coverage
In many states, a single employee triggers the need for workers compensation insurance. This coverage protects you when an employee is injured in the scope of his or her duties for your business. The employers liability portion of the policy can defend you when the state workers compensation statute doesn't cover the employee's injury, or the employee or spouse sues.
Umbrella Liability Coverage
With today's jury verdicts on the rise, umbrella liability coverage is the most cost-effective way innkeepers can protect themselves against lawsuits. The umbrella or excess liability policy provides an additional layer of liability protection over your primary general liability policy.
Whether you run a small motel, casino, resort, or other venue, hotel owners run into unique risks that can produce high settlements and even higher jury verdicts when facts are bad and injuries serious. The umbrella liability policy may also "drop down" to cover risks excluded under your general liability coverage. In today's increasingly litigious environment, an umbrella policy provides peace-of-mind coverage at a cost-effective rate.
Cyber Coverage
The need for cyber coverage for hotels is growing by the day. As a hotel operator, you face several challenges when sophisticated hackers attempt to access an internal or a third-party vendor's computer system. Hotels are a frequent target for today's hackers, whether they access third-party reservations systems or shut down internal systems with ransomware. Hotel News Now detailed hotel cyber breaches in a 2018 article that showed hotel after hotel chain impacted by credit card compromise, identity risk fraud and malware attacks. Cyber coverage insuring agreements are highly detailed to protect against various threats, and the number of insurers offering cyber coverage continues to grow. Each insurer's coverage forms vary widely. Work with an experienced broker to be sure you have the best coverage for your cyber exposures.
Employment Practices Insurance 
Employment practices insurance protects you against a variety of employment-related claims. These can range from wage-and-hour claims when employees allege overtime or other wage discrepancies to serious allegations of harassment and emotional abuse. These types of cases require systematic investigations and are expensive to defend. Employment practices coverage can help you manage the risk of employee dissatisfaction from the filing of an Equal Employment Opportunity Commission claim to the final claim adjudication.
Emerging Threats of an Active Assailant
One of the biggest emerging threats facing hotels large and small is the possibility of an active assailant. The global settlement for the MGM Resorts shooting in October of 2017 may be $800 million. Smaller venues as well can face a disgruntled employee who exacts revenge with violence.
Active assailant coverage protects the erosion of your general liability limits and can help provide unusual coverage to handle losses.  Counseling and other uncommon offerings like the cost to rebuild a venue indicated after an on-site attack are not typically covered under your standard liability or property coverage.
Start with the Insurance Basics
Most liability cases against hotel owners involve allegations of unsafe conditions or altercations between guests, especially common in incidents involving alcohol. You may want to begin your insurance search with liability coverage, but a full-service insurance broker can offer all the coverages discussed.
Contact us for a detailed hotel quote today.