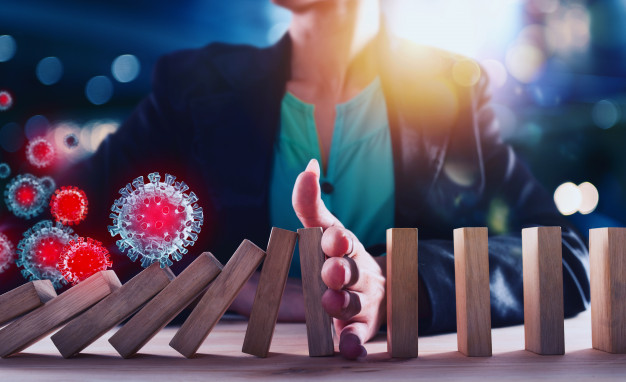 With the insurance industry expected to take a big hit due to losses stemming from COVID-19, this may be a good time to reevaluate your insurance coverage. Given the large influx of claims anticipated from COVID-19 issues, insurers are facing the possibility of government intervention forcing them to pay business income (BI) and other claims they had not intended to cover. Higher premiums may adversely impact commercial real estate owners and investors.
The American Property Casualty Insurance Association estimated that business income losses of small businesses alone could range between $220 – $383 billion a month from an estimated 30 million virus-related claims. These figures do not include the losses of large corporations, many of which shuttered manufacturing or greatly reduced output or sales because of COVID-19. Insurers typically exclude risks arising from pandemics. However, insurers expect an onslaught of claims and litigation resulting from virus-related issues.
According to McKinsey & Company's March 25, 2020, COVID-19 Briefing Note, insurance carriers may be in store for a 38% decrease in stock price on average in 2020. That means premiums can be expected to increase sharply to make up for these expected losses.  For real estate and business owners who are considering going out to market for a new insurance program, now may be the time to lock in premium for the next 12 months before drastic premium spikes continue to intensify.
COVID-19 Coverage Issues Will Impact the Industry Similarly to 9/11 Claims, Experts Predict
Many insurance experts quickly compared this virus coverage crisis to the impact the 9/11 attack had on the insurance industry. That terrorist attack cost the insurance industry $31.6 billion after paying out all claims. It also forever changed the way the insurance industry does business. Business owners are already seeing changes to small business lending because of the coronavirus, according to the Service Corps of Retired Executives (SCORE).
Insurance experts predict the insurance industry will make sweeping underwriting changes, and soon. Given this and other uncertainties, the entire insurance industry expects an influx of claims, both those that will find coverage under policies, like workers compensation coverage, and those that will litigate well into the future. Because most insurers write many lines of coverage, this will significantly impact earnings across the industry.
How COVID-19 May Impact Other Insurance Coverages
Coronavirus concerns will impact coverage lines differently. Here is the virus's expected impact on a few major coverage areas.
Widespread Employment Practices Liability Insurance Claims from Layoffs and Reductions in Force
Layoffs from corona virus-caused slowdowns may cause employment practices liability (EPLI) claims to escalate. The virus also raises other EPLI concerns. In one instance, a plumbing contractor in Arizona faced layoffs when his crew, seasoned plumbers, refused to work out of health concerns. A termination in this instance could easily result in an EPLI claim.
Employers who have never faced these types of employment situations could find themselves making decisions relating to COVID-19 issues without legal or human resource expert advice. With commercial real estate predicted to be hit hard by COVID-19 concerns, EPLI can help you weather the downturn.
One employment decision made under pressure can trigger EPLI claims for any sized business.
Workers Compensation Coverage Risks
Workers compensation policies cover both injuries and occupational diseases caused by exposure to conditions peculiar to a trade or employment. Insurers accept liability only after a "compensability investigation." Compensability, the factors insurers use to determine whether to accept or deny a workers compensation claim, will provide abundant issues with coronavirus claims. For healthcare workers and other front-line personnel like emergency responders, compensability will be much clearer. However, what about grocery store personnel or security guards in large commercial spaces who have customer contact but may also contract the virus from family members or other exposures? Most workers compensation carriers will develop a standard compensability investigation protocol for COVID-19 in anticipation of the flood of coronavirus claims and litigation.
Property Insurance and Pollution Coverage for Disinfecting Properties
Most property policies require a direct physical loss to trigger coverage, for example, a fire. Pollution liability policies do not share this characteristic. Many pollution policies will include disinfection for virus exposures. However, other pollution policies may not consider a virus a pollutant. Policy wording is key here. Working with brokers experienced in placing pollution coverage is vital. An experienced broker can help you decide on the clearest and most comprehensive policy wording available.
Cyber Insurance
Working from home will create cyberrisk exposures. From ransomware threats to other issues such as hacked Zoom or other online meetings, business owners will face more challenges than ever with a home-based workforce. A standalone cyber policy is your best defense against these types of claims. If you're transitioning your workforce to their homes, consider a quote for cyber coverage.
General Liability Concerns for Third-Party Claims and Lawsuits
One of the main concerns facing insurers is third-party losses alleged against business owners for mishandling COVID-19 concerns. For example, suppose a retail operation keeps its employees working during a business shutdown. Now imagine a cashier becomes ill with COVID-19. He or she then goes home to infect the family. Family members may allege the cashier's employer failed to adequately protect the employee against the virus. This can cause a third-party lawsuit against the retail outlet.
Expect Novel Theories of Liability in Directors & Officers Claims
Directors & officers (D&O) coverage protects companies for suits brought against the company's officers and directors for decisions or action they may, or may not, have taken in response to COVID-19.
From Fox News and its concerns over downplaying the COVID-19 virus to both private and public companies alleged mismanagement, directors & officers coverage will be spotlighted in the aftermath of the coronavirus. When remote workers telecommute, they leave companies more exposed to cyberattacks.  According to JD Supra, a legal intelligence source for business and newsmakers, telecommuting employees will create D&O management exposures which may create claims under D&O insurance.
Reevaluate Your Insurance Coverage Now – Renewals May Be Rocky Amid Coronavirus Concerns
We know you may be struggling to respond to pandemic risks. However, now may be the time to get out ahead of potentially hundreds of millions in insured losses and reevaluate your insurance coverage. We can help you secure competitive rates and coverage. Contact us to discover how we can help you.